If you are wanting to learn how to increase the value of your blog so that you can sell it at the top of its valuation, high five! Because you are making an exciting decision, and you are at the very best place to do just this.
Here at NicheInvestor.com, we have helped thousands of website owners flip their websites for profit. We've sold over $3M worth of niche sites on our platform, in fact!
Blog flipping can make you some serious cash, but to make the big bucks from flipping, you need to know how to increase the value of your niche site.
So, today we'll be getting into the 12 ways to increase the value of your blog or niche site and make it more attractive to potential buyers.
As an affiliate partner of various brands and sponsored content, we may earn commission on qualifying purchases. Disclaimer | Advertise With Us
In this article, you will learn how to unlock the full potential of your website by increasing its value with our proven tips and tricks. Read on to discover a formula for what to do to make your niche site attractive to potential buyers.
Why increasing the value of a blog is important
So why bother increasing the value of your blog?
To put it plainly, it's like trying to sell a lemonade stand on the side of the road. Would you rather have a stall with just lemons and some tap water or one with freshly-squeezed lemons, organic sugar, and an adorable little umbrella?
Which do you think will sell faster?
The choice is clear!
The same goes for your blog; the more appealing its value, the more attractive it is to potential buyers.
What do we mean by 'increasing the value of a blog?'
We realize that increasing the value of a blog can mean a few different things.
For one, it can mean adding more value to the blog itself, such as publishing more helpful resources and content, thus providing more value to your readers.
Which, is important too.
But for the purposes of this article, when we talk about increasing the value of your website, we are referring to increasing its worth, it's asset value, its resale value.
AKA improving a website in ways that makes it worth more money to a potential buyer.
Because, the fact of the matter is, the more money your website earns, means the more money it can sell for.
…In some cases, every $1 your site earns makes it worth $3 at resale!
But that's not all; focusing on increasing the value of your niche site can help your website stand out in the market as a golden opportunity for a buyer.
This way, you can get your niche site sold in no time.
12 Ways to Increase the Value of Your Blog
So how do you increase the value of your niche site? Here are 12 things you should be focusing on, which will give the value of your website a boost.
0. Increase the profit
This tip is a no-brainer, so I put it as number "zero" in this list. Because no matter what, a blog that has a higher profit will usually be worth more than a blog with little to no profit.
But let's explore things you can do to increase the value of your website beyond just the income.
1. Focus on increasing organic traffic
Organic traffic is an important metric that buyers will look at when considering making an offer to buy your niche site.
Organic traffic is people that visit your website from search engines like Google and Pinterest – without having to clik a paid ad to get there.
This type of traffic is the good stuff, it's very valuable to website buyers. So improving your website's organic traffic is important.

Here are a few ways to optimize for organic traffic
Create quality content
Optimizing your content for SEO,
Creating backlinks and internal linking of your articles (see: what is internal linking?)
Target the right keywords: keywords with a good search volume
Use long tail keywords that are easy to rank for
Optimize your images
Using keywords, meta tags, and optimizing images can improve your search engine rankings and drive more traffic to your site.
A helpful SEO tool that we like to use and recommend is Surfer SEO. It scans your website and tells where and how you need to improve things.
2. Improve the user experience
Another way to increase the value of your niche site is by improving user experience.
A user will leave your website immediately if it is all over the place, the truth is no one wants to spend time figuring out where to go on your website.
Life is already busy as it is.
So to prevent this from happening, it is crucial to make your website user-friendly. Make it easy for your website visitors to navigate and find what they need quickly!
You can do this by ensuring everything is well organized, creating an easy navigation system, a search bar, and adding content-related images or videos.
People will give you about 3 seconds of their attention while they decide if they want to stay on your site or not. If your site is hard to navigate or cluttered with ads, they won't stick around.
So you need to capture their attention, quickly convey how you can help them, and give them a good reason not to bounce away.
For example, here at Niche Investor, we make it very easy for people to know what we do and how we can help them, as soon as they land on our homepage: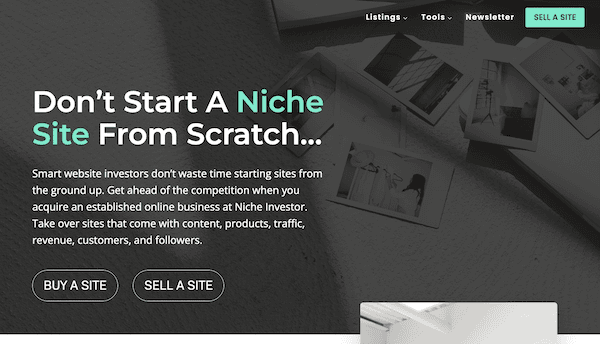 In the screenshot of our homepage above notice how we have a big headline/statement and then two buttons to choose from: "Buy A Site" or "Sell A Sit.e"
The button choices give people a quick opportunity to navigate to what they need first from us. And their selection tells us which of our two types of customer avatars they fall into.
Either they are here to buy a site, or to sell their site.
And the resources those buttons lead to give them the information they need.
You will also notice that our navigation bar is to the point as well.
There are 3 top navigation options (Listings, Tools, and Newsletter) which each lead into more specified submenus, and then a big button that says "SELL A SITE."
By keeping our navigation simple, it doesn't overwhelm people. This is because oftentimes when someone is presented with too many choices, they will feel overwhelmed, and choose none!
3. Write high-quality value-adding content
As a niche site investor, one of the things that makes a website attractive to buy, is the content.
You should focus on writing awesome content about your niche, to increase its value. And I am not just talking about a niche site filled with fluffy content, I mean high-quality and valuable content.
To increase the value of your website, you need to fill it up with well-researched, informative, and engaging content.
If you have trouble producing the content yourself, you can hire writers.
My favorite way to increase content on my site is to buy a website that already has fantastic content, backlinks and traffic. And then just close it down and redirect all the content and links over to my site!
This will help you attract readers as well as potential buyers.
Strive for relevant and engaging content that will keep your readers returning for more.
Think of that amazing restaurant where you ate that meal that's to die for, and now that you keep going back. That is what it's like for website investors when they see a blog for sale that is made with content that keeps its readers coming back for more.
I recommend that you write evergreen content; this means timeless topics that keep bringing in traffic over time.
Tips for writing high-quality content
Keyword research is your best friend. The truth is without doing any keyword research; you will be shooting in the dark.
Use grammar and spelling tools to check your content
Make sure that your content is well-structured, easy to read, and concise
Focus on delivering value to readers by providing helpful information
Always proofread the content before it goes live.
Ensure your content is sharable; when readers love and share it, it opens a new stream of traffic for your niche site.
Finally, have fun with it, and let your personality shine through your content.
4. Build Your Email List
Your email list is gold and a must-have for several reasons.
First, an email list is a valuable asset that increases the value of the niche site because you get to sell your email list along with the site.
Second, an email list is a way to connect to your audience personally and create a community of raving fans you can sell to.
Remember, the more your website makes, the more money you make from the sale.
So if you still need to jump on that email marketing bandwagon, start now!
On that note, are you getting our website investing tips in your inbox? You certainly should be! Get on our list here.
5. Focus on user engagement
User engagement is another critical metric buyers will look at when considering your website, so make sure to focus on increasing the level of engagement your website has with users.
You can do this by creating interactive content such as quizzes and polls and encouraging comments/responses.
You can also incorporate user feedback and reviews.
Another creative way to increase user engagement is by building a community. Create a Facebook group where your users can interact, contribute and have first-hand information about your niche site.
We invite you to join our FB group for niche website flippers.
6. Optimize website speed
First of all, do you know that your website speed can affect your ranking on google?
Well, if you didn't know, now you do.
Your website speed is an important factor that affects your ranking and it also affects user experience.
I can tell you that no one has the time to wait for your slow-loading website. I don't!
So, you want to avoid risking your users leaving because of a slow website.
Do yourself a favor and optimize your website speed; it will pay off in the long run.
Here are a few ways to increase the speed of your website
Use a caching plugin
Compress images sizes,
Reduce redirects.
Minify code
Use a fast web host
Get rid of unnecessary plugins or themes
Improve your website design and usability
You can also use tools such as Google PageSpeed Insights of GT metrics to analyze your website and ensure it loads quickly.
7. Build backlinks
Building backlinks is a fantastic way to increase the domain authority of your website and also increase the value of your website.
What are backlinks?
Backlinks are links from other websites to your website.
The more backlinks you have, the higher rank your website will get on search engines because backlinks to your website tell google that your content is worth it.
So how do you get backlinks?
1. Slow way: You can start by consistently creating high-quality, engaging, and relevant content that people want to naturally reference. Create sharable content.
2. Another slow way is by networking. You can contact other high DA domains in your niche to ask for a backlink.
3. And another slow way is by writing guest posts. Guest posting is yet another way to get a backlink. Here you can write a post for another website that links to yours.
4. Fast way: this is my favorite way to get backlinks…it's by buying an established website that already has a ton of backlinks. Like this one!
Building backlinks is an excellent strategy for growing your website overall because it drives traffic to your website, helps establish your website as an authority in your niche, and, of course, increases your website's value.
What's not to love?
8. Create videos
Videos are a great way of increasing engagement on your site. They will keep visitors longer, and that's not all; they will also help you reach a larger audience and help establish you as an authority in your niche.
The easiest way to get started with videos is by leveraging Youtube. Make a video about a blog post and leave links in the description box or add links in the video for people to click.
Then create 30-60 second "trailers" that promote the longer video, and upload those as Youtube Shorts, TikToks and Instagram Reels.
You can also explore live streaming. It's a great way to interact with your audience and create a sense of community.
We actually host a weekly live stream for our niche site flipping community. You can watch previous sessions here. And make sure you are on our email list to get invited to our next live session.
9. Diversify your income streams
Diversifying your income streams is another excellent way to increase the value of your niche site.
When you incorporate different monetization methods, such as affiliate marketing, advertising, and sponsored content, you can show potential buyers that your site has multiple revenue streams.
And that's a huge potential any buyer will be looking out for.
Other ways to monetize include
selling digital products, such as ebooks, courses, and webinars.
offering consulting and mentoring services
selling physical products
==> Learn more about blog monetization.
10. Tracking website performance
I love Google Analytics and Google Search Console because they:
give insight into what blog posts are doing well,
what page on my website is popular,
where most of my audience is coming from
and how long they are staying on my website
It is awesome.
I can track everything from traffic to user behavior to conversions.
So you see, a potential buyer would like to know this.
So to increase the value of your blog, you can show the new owner that the website has potential or that the website is doing well, and you can only do this by monitoring your website's analytics.
These metrics will help you decide what's working and what's not, which is key for making informed decisions about your website.
11. Take Advantage of Social Media
The great thing about using social media for your niche website is it gives your website immediate exposure and can increase traffic to your website almost immediately.
Leverage influencer marketing to get your website in front of more people, explore social media advertising, and engage with your audience.
Social media is also great for boosting brand awareness, so it's perfect t for increasing the value of your niche site.
A niche site for sale with an excellent social media presence will always be attractive to potential buyers.
12. Optimize for mobile
Last but certainly not least, your website needs to be mobile-friendly.
Unsurprisingly, many people visit websites on mobile phones so ensure your website is mobile-friendly.
Check that the pages load fast, links are working, your content is easy to read on mobile.
Remember, having a well-optimized website for mobile is one of the easiest ways to increase your niche site's value.
Frequently Asked Questions About Increasing The Resale Value Of A Blog
1. Is a blog worth more if it has lots of followers on social media?
Having a community on social media around your blog's brand is a great plus, especially when it comes to selling your blog. It adds value, and it helps to support the asking price and increase the chances of a sale. But more social media followers don't necessarily equal a higher selling price. Because, the selling price of a blog is determined by how much profit it earns.
Get a free valuation for your website, here to see how much it could potentially sell for, to know for sure.
2. How do I add value to my blog post?
At the blog post level, you can add value to your article by including:
Honest, helpful, and entertaining advice
content that solves the reader's pain point(s)
images, videos and social media embed
Free lead magnets
Linking out to other resources
personal stories that help convey the message / relate to the reader
3. How do you value a blog?
A blog's value is first determined by how much profit it earns. And then all the other elements (as listed in the tips above) add additional value, which supports the overall selling price.
4. How can I make my blog more powerful?
If you product content from a place of truely wanting to help your readers, and you strive to continue to show up for them, then your blog will be immensly powerful.
12 Ways to increase the value of your blog site – Conclusion
Everyone wants their niche site to succeed, but success takes time. Remember that consistency is key when it comes to increasing the value of your niche site's value.
Keep up with these strategies and watch your niche site's value increase with time!
Now, take 30 seconds and get your free website valuation to check how much your site is currently worth!