How Much Is My Website Worth? Valuation Calculator
If you are asking yourself "how much is my website worth?" you may be wondering how much money you could sell your website for.
We have the answer! As professional website brokers here at Niche Investor, we have sold hundreds of websites for hundreds of thousands of dollars and helped countless creators have a profitable exit.
In this article, we will share exactly how to determine the worth of your website, as well as some tips for how you can increase a website's value.
As well, we have a free website valuation tool, for when you are ready to sell your website.
As an affiliate partner of various brands and sponsored content, we may earn commission on qualifying purchases. Disclaimer | Advertise With Us
How Much Is My Website Worth?
The worth of your website is calculated first by the profit it earns. But also the quality of your content, the design of your site, the ads, affiliate links, sponsorships, and of course, the traffic it gets.
Having a website with ads and affiliate links is one of the most efficient ways to make money blogging, and you could eventually turn it into a full-time career.
You may have a site, and wonder how much it is worth. There are many ways to find out how much money your website is worth, and what steps you may want to take once you have found out.
You have come to the right place. Today we will be giving you some advice about website flipping, knowing when to sell your site, and how to find out how much your site is worth.
As we know, websites can be extremely profitable and consistent.
In order for your website to be profitable, you need to have a good range of content on it.
This content needs to be relevant, and it should be gaining good traffic.
It will also help if you can continually update the website content, and produce more content.
This will mean that visitors that have used your website will be more encouraged to come back to your site for more information or recommendations.
Additionally, a good range of ads will help make your site profitable and valuable.
Ads are not the most profitable way of earning money by any means, but they are reliable and helpful to your income.
The more traffic your site has, the more effective your ad spaces will be for you.
Furthermore, affiliate links are some of the most popular revenue streams, that will make your website valuable.
If you are writing content for products, affiliate links will be the best way to make your content and website profitable.
This will mean your potential for making money is pretty high, and this overall makes your whole site valuable.
Websites accumulate a worth over time, dependent on how much traffic they are generating, and how any affiliate sponsors are doing.
Although a standard multiple in the website investing industry states that sites sell between 2-3 years its annual revenue, there are more factors that come into play than that multiple alone.
Website value calculators may give you a rough price estimate for your website, but to really know how much your website is worth you should seek the advice of an experienced Business Intermediary.
We offer this service here at Niche Investor, via our free website valuations.
How Do I Sell My Site?
There are various ways to sell your website. Once you know how much your website is worth, you may be wondering what to do next.
If you are set on selling your website, it is pretty simple.
Think of selling your website as similar to selling your home.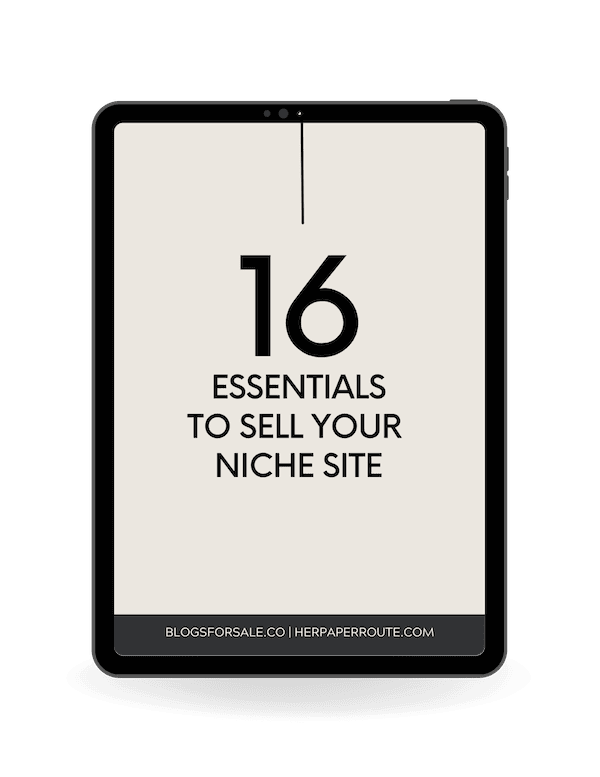 We have a helpful free guide to prepare you for selling your site. And a very simple application process for selling your website, which you can start here.
Where Can I Sell My Website?
There are many marketplaces that allow you to list your website for sale.
Niche Investor (formerly BlogsForSale.co) is also a partner broker at Flippa, which means when you list with us first, we can also list your site on Flippa at the same time via our broker account, and you won't have to pay any Flippa listing fees, as we cover them.
Empire Flippers
FE International
However, there are a few really good reasons to go with Niche Investor, as the place to sell your website.
First, most marketplaces simply allow you to list your site on their platform, but that's all they do. You would still have to manage the listing, email back and forth with potential buyers, negotiate yourself and also manage the transfer of assets by yourself.
And then those marketplaces take a cut of your sale, without actually providing a service beyond allowing you to list on their platform.
How the Niche Investor marketplace is different, is when you work with us you actually have a designated agent working on your behalf.
Your Niche Investor agent provides a white-glove service that takes care of you from start to finish.
Although we do specialize in selling content sites, we also sell e-commerce businesses, Amazon FBA businesses, physical product businesses and more.
Just some of what your Niche Investor agent does, that other marketplace do not:
Your Niche Investor agent…
Takes care of building your listing page, organizing financial records, and positioning your site to attract buyers
Advertises your listing, including reaching out to our network of investors
Manages all email correspondence with potential buyers (so you can focus on your work and not be bombarded with 10,000 emails a day
Meets live over ZOOM with potential buyers
Assists in the negotiations
Provides a sale contract between you and the buyer
Manages the Escrow process
Assists in the timely transfer of assets
Is available to answer any questions you have
And more…
In addition to evaluating your website, content, traffic and revenue, we also estimate your domain by examining similar domain name sales and profits. We look at a historical and in-depth analysis of website domain worth.
How Does A Website Earn Money?
When it comes to selling your website, know that the more revenue it makes, the more valuable it will be, and the higher it can sell for.
So you should have multiple revenue streams in place to increase the income, and ultimately its resale value.
There are several ways that websites make money, and what you can do to increase a website's worth.
Of course, if you own a website, you will likely know this already.
Websites can make money through affiliate marketing, digital products or ads, primarily.
Ads
Advertisements are the most common method of making money from a website. These are in the form of small banner advertisements that appear at the bottom of the screen or in the sidebar.
As more people click on your website, they will see these ads.
If they click on these ads, then you will make a couple of cents, and even dollars.
This means that to make money from ads, you need to have a high amount of traffic on your website.
People do not usually make money from just ads, as you will need millions of monthly visitors to make a significant amount of money.
Related: The Top 10, Highest-Paying Ad Networks
Affiliate Marketing
The other most popular way to make money from websites is through affiliate marketing. Affiliate marketing is when you promote another business's products and you earn a commission from the sale when you refer customers to them.
For example, if you are looking at a site for bikes, you may see an ad on the website, encouraging you to go and check out a new range of electric bikes. It will typically say below that it is an affiliate ad.
If a visitor signs up to this link or buys something from the place, you, the website owner, will make a commission.
Amazon is one of the most common affiliate sites. But there are many more, higher-paying affiliate programs you should know about.
Sponsorships
Companies may reach out to websites that have an email list of visitors, and they will request to sponsor an email or buy an ad space on your website.
This means that they can promote their services within the email list of someone else's site.
Every sign-up they get, you may earn some money. You will definitely earn money when they buy ad space.
Digital Products
Another way that websites make money is through selling your own digital products. This may include ebooks, masterclasses, courses, or guided services that are unique to you and your website.
This is a good and consistent way to make money.
If you are pricing a min-course at $197, and you have a hundred people a month buying the course out of your web traffic, you are making a nice income of over $19,000 per month.
==> We recommend this tool for hosting & selling courses: LIFETIME DEAL!
Is It Time To Sell My Website?
There may be various reasons why you may consider selling your website.
In order to use your website to make money, it will require regular upkeep, including the content that is published, as well as any up-to-date affiliate links.
It can be difficult to manage your time, especially if your site is not your full-time job.
You may also want to sell your site because you have hit a ceiling in terms of traffic, or you simply want to explore different routes.
When It's Time To Move On
You may have been working on a site for a few years, or a few months. Your website may be generating traffic and revenue, but it may not be the project that you devote your time to.
You may be looking to see your site if you simply want to invest your time doing something different or exploring different routes.
The website may have also been successful, but maybe you want to devote your time to bigger and better things.
From selling your site, you will make a sum of money, so it's never like all your work went to waste.
If You Have Reached Your Full Potential WIth This Site/Niche
You may have had your website for a few years, and put a lot of effort into it. This includes the content, affiliate links, keywords, and general traffic management.
You want your site to reach its full potential and make as much revenue as possible, but you may not be the best person to run it.
You may notice some repeating trends in your website's success and are realizing that it's time for someone with more experience in this niche to take over.
You may see it is making the same amount of money each month, or it is reaching a consistent amount of traffic.
This is a fantastic accomplishment, but it may seem impossibly difficult to continue yourself.
You may consider selling your website, as you can make money from the sale, and allow someone else to get more from the site.
You Have Changed Your Mind
It may get to a point where you have put a lot of time and effort into your website, but you can no longer give it the effort that you used to.
It may be a case of having a ten-year-old site and not getting any clicks, or it may simply be that you have fallen out of love with your site.
Either way, if this happens, it may be time to sell.
Website Value Calculators
Most online website value calculators will simply calculate an estimated worth of your website when you put in some information, similar to a real estate price calculator.
It won't be a guaranteed accurate worth valuation.
There are lots of different website value calculators to use, and you can use a range to estimate the most accurate value of your website.
It's best to get a proper valuation done by an actual human who is an experienced business intermediary.
We offer this service free of charge. Simply fill out the form at the bottom of this page to get find out how much your website is worth now. You will also receive a suggested listing price range you may be able to sell it for.
How Much Is My Website Worth? Final Thoughts
When selling your website, you need to consider its worth, its long-term value, and the target market. Your designated agent at Niche Investor can help you to determine this, and help you in getting the highest offers at the top of the valuation.
We have a simplified guide to help you research the process of selling your website. As well as some helpful FAQs for sellers.
The value of your website always depends on the value of your content, traffic, and revenue primarily.
But also its potential to succeed in the future, as well as additional assets that are unique to your brand. Again, your Niche Investor agent will be able to help you uncover any additional assets that may increase your valuation for selling.
We hope this article gave you some great information about selling your website, and how to know how much it may be worth.
Now, are you ready to list your website for sale?
Simply fill out the free website valuation tool below, to get your complimentary valuation. Our team will be in contact with a suggested listing price, and more information on how to sell your website.
Find Out How Much Your Website Is Worth Now: