How much traffic is needed to sell your website?
How much traffic is needed to sell your website? That's a great question to consider, and we have the answer. When you are ready to sell your website and cash in on all the hard work you have put in, there are many things to consider.
You want to know how much traffic your website needs before you can sell it, right?
You are in the right place. Because the truth is there are a lot of factors that go into determining the value of a blog, and traffic is just one of them. But it is an important one, and it's an excellent place to start.
So, let's dive in and look at what you need to know about traffic and selling your website.
As an affiliate partner of various brands and sponsored content, we may earn commission on qualifying purchases. Disclaimer | Advertise With Us
The Basics of Understanding Traffic, When You Want To Sell Your Website
Before you sell your website, know that traffic is important, but it is not the only thing. Other factors go hand in hand with determining when to sell your blog.
How much is your website earning?
The thing is, you can have all the traffic in the world, but if your blog isn't generating any income, it won't be worth much to potential buyers.
Yes, buyers want to see that your website has growth potential, but the amount you sell your blog for is also determined by how much your website is currently making.
So while you focus on increasing your blog traffic, you should also consider increasing the income streams for your website as well.
A typical formula for how much a website will sell for is based on its earnings alone is 24x – 40x. If your website is earning $1000 per month, it may sell for $24,000 – 40,000.
Other factors – including traffic quality is then factored in or out of that equation before being offered to buyers. (Be sure to get your free website valuation to know for sure!)
Does your website have an engaged audience?
Before you decide to sell your blog, you should consider who your audience is.
Do you have an engaged audience? How long do they spend on your website? ( AKA take a look at your bounce rate in Google Analytics).
Does your website have diversified traffic?
Buyers like to see that a website has traffic coming in from a few different sources. Think Google, Pinterest, social media, email, and so on.
A potential buyer wouldn't be as attracted to your site if its traffic solely relied on only one source, as that is too risky of an investment. One algorithm change could tank the whole business, in that case!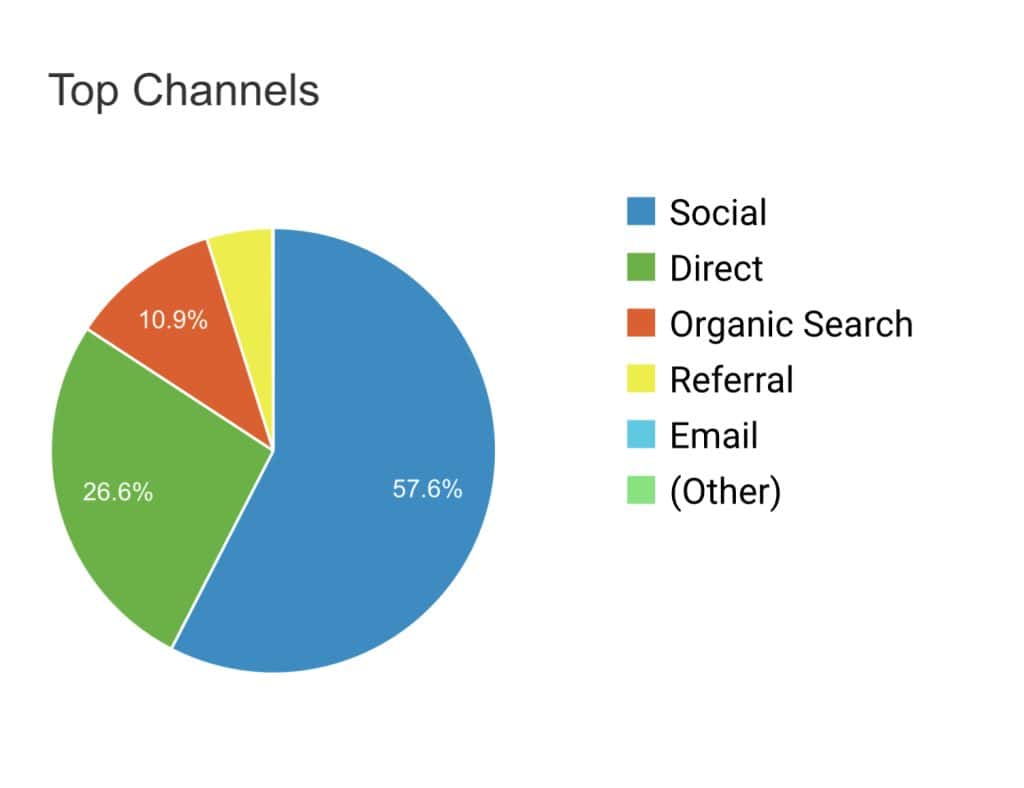 So, focus on growing your brand on a few social platforms, build an email and a Pinterest presence, in addition to SEO.
Is the traffic high quality?
The source of your traffic also matters when deciding to sell your website. And different sources are better quality than others.
What do I mean by quality traffic?
A website getting 10,000 monthly organic traffic from search engines + engaged audience is undoubtedly worth more than a website getting 30,000 bot traffic or 30,000 visitors from paid traffic gotten solely from paid ads.
A potential website buyer will consider these factors and your overall website's traffic.
How much traffic does your website need before you can sell it?
So this is the big question.
Honestly, it depends.
Hear me out. Yes, having high traffic is good because, at first glance, it is a good indicator that the blog has some potential and good reach.
But here is the interesting part:
A high-traffic website that has no income, plus an audience that is not engaged is less valuable than another website that has ok traffic and has been able to channel and convert that traffic into making a good income and keeping its audience hooked.
So it all boils down to this, traffic is good but targeted traffic is better.
At the end of the day, you want to sell your website, but you also want to sell it for the best price, right?
There is no magic number for the traffic your blog needs before you can sell the key is to strive for both quality and quantity when it comes to traffic.
What Is Considered Good Traffic?
Now that we have gotten that out of the way, so what is considered good traffic?
What should you aim for?
The bottom line is it depends on your goals and your niche.
What do I mean by this?
Well, for example, a personal finance blog with traffic of 100,000 visitors per month is doing well, right? Here's the kicker, a super niche profitable hobby blog pulling in 10,000 engaged visitors per month is also considered doing well.
So honestly, it all comes down to this,
The higher the traffic, the better, but
The higher the traffic + engaged and profitable audience, the more valuable your site will be to a potential buyer.
Factor in monthly profit, and you have a recipe for success
So again, how much traffic does your blog need before you can sell it?
It depends! 😁
How much traffic is enough, to sell my website?
Generally speaking, a website with consistent monthly page views of 10,000 or more is often good enough to make the blog attractive to buyers.
Anything below that would be considered a starter site.
Although starter sites do still sell, you stand to make much more money by flipping established sites.
Even if your website does not get 10,000 pageviews, there are still ways to monetize your blog to get it ready to be sold.
Here are a few ways to monetize your website, regardless of traffic
Affiliate marketing: promote products for a commission
Sell digital products: ebooks, courses, printables, etc
Make money from services like consulting and coaching
How to Increase traffic to your website
So how can you increase traffic to your website? Here are some foolproof ways.
Utilize SEO
Organic traffic makes your blog more valuable to buyers because it indicates enormous growth potential.
Optimizing my blog for SEO has always been my favorite way to boost traffic to my niche site because it's free and has a lasting effect.
I can get traffic from an old blog post for years.
Utilize Pinterest SEO
Just as we discussed the importance of diversified organic traffic sources above, Pinterest is one tool not to overlook.
Just look at the results I am getting on Pinterest, for a low domain authority website I purchased recently:
I'm getting over 1,000 visits a day from Pinterest on that site. A website that doesn't have the DA to compete in SERPS with its bigger competitors. And this is in addition to traffic I'm getting from Google and other sources.
Pinterest is a huge search engine, and you want your website's pins to show up when people enter your targeted keywords into the Pinterest search bar.
Learn more about my Pinterest strategy.
Consistently write high-quality content
Honestly, you can't skip this part.
Whether your goal is to sell your website this year or not, there is no shortcut to increasing your traffic.
You have to write content that meets the needs of your audience consistently.
Content is the heart of your blog, so as much as I can go on and on talking about monetizing your blog, nothing would make your blog more profitable or valuable than quality content.
Actively Promote Your Content
Optimizing for SEO is great, but you must consider other avenues for putting your website out there, too.
Use social media to increase your reach, collaborate with other bloggers, and consider guest posting.
Guest posting is writing content for another blog, usually a blog with more traffic and a higher DA in your niche.
You can link to your blog from that article when you guest post. This helps increase your backlinks and is an excellent way to get exposure for your blog.
Also, spend some time in Facebook groups sharing your blog posts where it's appropriate. Answer people's questions that relate to your content, and drive traffic back to your website.
Read: When is the best time to sell your website?
How much traffic is needed to sell your website? Conclusion
Website traffic is crucial and must be considered before selling your website because, after all, substantial traffic is the key to success with everything else.
You need the traffic to make money on your website, and having a substantial amount of traffic makes your blog super attractive for buyers.
Traffic is a crucial indicator of how successful your blog can be, and the quality and source of the traffic give a buyer a good idea of the potential of your blog.
So the more traffic a blog has the more valuable it is, and the higher its growth potential.
Find out how much your website is worth now!
Enroll in this SEO for beginners course to learn how to get more traffic.