The Best Time To Sell Your Blog Is Now
Are you wondering when is the best time to sell your blog? Curious about the right moves to take this step? You are in the right place.
Selling your blog can be an exhilarating and stressful experience; trust me, I've been there.
I've spent years building and selling websites. As well as brokering the sale for others.
How do you know when it's the right time to sell your blog? There's much to consider. Let us get into it.
As an affiliate partner of various brands and sponsored content, we may earn commission on qualifying purchases. Disclaimer | Advertise With Us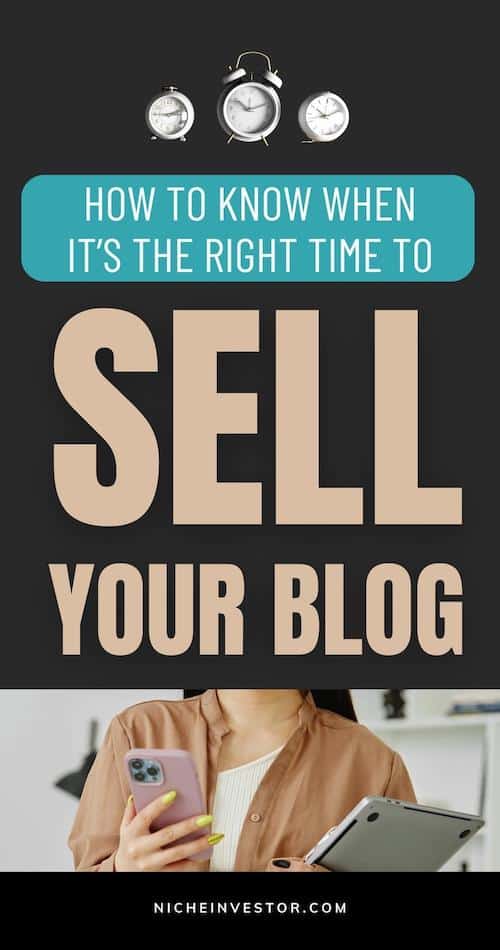 First, why bother making time to sell your blog in the first place?
First of all, why should you even think about selling your blog?
I know it's tough to let go of something you've worked so hard on, but there are some remarkable benefits to selling your blog, such as:
A nice payday
Extra cash from selling our blog comes in handy, so selling your blog is always a good idea. You'll get that upfront money that you can use for new projects or a well-deserved vacation.
Time for a breather
Blogging can be a full-time job; sometimes, it's hard to juggle everything life throws at us.
If you need some breathing room, selling your blog can give you more free time so you can focus on other projects and pick up hobbies or new businesses.
The joy of passing the torch
One of the most rewarding aspects of selling my blog was knowing it would continue to grow in someone else's hands.
There's a certain satisfaction in knowing your blog will thrive under new ownership.
How To Know If The Best Time To Sell Your Blog Is Now
Selling your blog is a big decision; how do you know the best time to sell?
Here are some signs.
1. When the numbers are looking good
When your blog's traffic, engagement, and revenue are all doing well, it may be an excellent time to consider selling because potential buyers will most likely be interested in your blog.
Think about it like walking away when the ovation is highest.
The thing is, buyers are more attracted to blogs with growing traffic and revenue because it shows there's potential for even more success!
So, if your blog is doing well, then it is the perfect time to cash in and get a great return on your investment.
2. When you're ready to move on
Sometimes, it may not just be working out anymore, you may feel like you've hit a creative wall or you're eager to try something new; it might be time to sell
3. When the passion is gone
Let's face it, sometimes, we fall out of love with our blogs, and it happens!
So Instead of forcing yourself to stick with it and feeling miserable, consider selling it to someone who'll bring that spark back and take it to new heights.
Remember, happy bloggers, are productive bloggers!
4. When you want to change your niche
It is also possible to have a new interest in a different niche.
So if you want to try out your new passions, it's okay to shift gears and focus on what truly excites you.
Selling your blog can give you the freedom and resources to start your new blogging adventure.
5. When life has gotten busy
Real life can sometimes get in the way of our blogging dreams.
If your schedule is crazy and your blog is taking a back seat, it might be time to sell.
Let someone else give your blog the TLC it deserves while you focus on what's important in your life.
6. When you want to focus on other projects
As creative individuals, we often have more ideas than we can handle.
The desire to focus on other projects is the #1 reason our sellers tell us for why they decided to list their blogs for sale in the marketplace!
So, If you have another project that's calling your name, selling your blog can give you the time, energy, and resources to make it happen.
7. When you want to cash out on your blog
Do you have an upcoming expense?
Or an investment you need a large sum? Whatever the reason, selling your blog can help you raise the money.
8. When your niche is sizzling hot
Timing is everything, and If your niche is gaining popularity, it could be a fantastic opportunity to ride that wave and get an even better selling price!
When I sold my blog, the niche was trending upwards, and i took advantage of it;
I must say this definitely helped me seal the deal.
So keep an eye on your niche, and be ready to strike when the iron's hot!
What are the things you should consider before selling your blog?
So, we've talked about when to sell your blog and the benefits of doing so.
You also need to consider some crucial things before selling your blog.
Know your blog's worth
This is important. You need to clearly understand your blog's value before considering selling it.
After all, you want to get the best value for your blog right? Consider factors like traffic, revenue, domain authority, and social media presence when determining your blog's worth.
Read: Website audit vs website valuation explained.
Get your house in order
Before selling your blog, make sure everything is tidy.
This includes updating plugins, fixing broken links, and ensuring your content is top-notch.
A clean and organized blog is a more attractive investment!
Get professional help
Selling a blog can be complex, so for peace of mind and a smoother transaction, you should consider working with broker. Getting some expert advice can really make all the difference!
A broker can help you save time and make more money.
I'm a blog broker with two decades of experience – reach out to me!
Be prepared for the emotional rollercoaster
Selling your blog is a big decision, and it can be an emotional journey, and that's okay!
It is really all part of the process of selling your blog just ensure that you are kind to yourself and give yourself time to adjust to the change.
Have a plan for after the sale
One of the things to consider is what you will do after you have sold your blog.
Will you start a new blog? Focus on other projects? Take some time off? Whatever it is, make sure you have a plan.
How to get the best price for your blog
Ok, so how do you get the best price for your hard work?
Here are some tips to help you get the most bang for your blogging buck!
Showcase your blog's strengths
This is crucial. Before you put your blog up for sale you need to do it with your best foot forward.
Highlight all the awesome things it has to offer.
Is your content high quality?
Do you have a dedicated and engaged audience?
Are your social media stats off the charts?
Whatever your blog's strengths are, ensure potential buyers know about them!
Make your blog better
We all have areas that could use a little TLC, and that's okay! Before selling your blog, take some time to address any weaknesses, like low traffic or outdated content.
Trust me, taking some time to improve your blog can make a big difference and ensure you get the best price for your blog!
Enroll in a blog growth training program to ensure your site is in the best position to sell.
Be transparent with potential buyers
Honesty is the best policy when selling your blog, and it's crucial to be upfront about everything the good, the bad, and the ugly.
Being honest from the start will help build trust with potential buyers and make the entire process smoother for everyone involved.
Don't be afraid to negotiate
Sometimes, getting the best price for your blog means flexing your negotiation muscles.
So be confident, stand your ground and ask for what you believe your blog is worth.
I know it can be intimidating, but remember, you've put your heart and soul into your blog and deserve fairly compensated!
What's better, when you sell your blog at Niche Investor, our agents handle the negotiating on your behalf!
Be patient
Rome wasn't built in a day, and neither was your blog!
So, when it comes to selling, don't expect to find the perfect buyer and price overnight.
Be patient, and remember that finding the right match can take time.
How to make the sale process easy
So how can you make the process of selling your blog easier? Here are some tips;
Organization is key
Trust me, being organized will make your life so much easier during the sale process.
Gather all your blog's important info like domain registration, hosting details, revenue stats, and any legal stuff in one place. The more organized you are, the more confident you feel when chatting with potential buyers.
Set clear expectations
Set clear expectations about the sale from the start.
Be upfront about your asking price, terms of the sale, and any other important details.
This helps avoid misunderstandings and keeps everyone on the same page.
Always work with a blog broker:
An experienced broker can help find the right buyer, negotiate the best price, and make the sale process smooth sailing.
In addition to managing the sale for you, once the sale is made, your niche Investor broker will assist in transferring the assets to the new owner, so that everything can go smoothly.
This will include giving you a clear plan for transferring your domain, hosting, social media accounts, and other relevant assets. A well-planned transition ensures a smooth and stress-free handover.
Communication, communication, communication
Stay in touch with potential buyers and be responsive to their questions and concerns. Good communication is crucial to a smooth sale process and helps build trust with buyers.
Get ready for due diligence
Potential buyers will want to dig deep into the details of your blog before making an offer.
So ensure you're prepared to provide them with necessary information like traffic stats, revenue history, and legal agreements.
Being ready for due diligence shows you're a serious seller!
Stay positive and patient
Selling your blog can be an emotional rollercoaster. But try to stay positive and be patient.
Remember, good things come to those who wait; finding the right buyer at the right price might take some time.
The Best Time To Sell Your Blog Is Now – Conclusion
I hope these tips and insights have helped you feel more prepared and excited about selling your blog.
Remember, there is no one-size-fits-all when deciding the right time to sell your blog.
Ultimately, the decision lies with you, but with these tips, I am sure you'll make the right decision on when it's the best time to sell your blog.