Website Flipping: How to Make Money Buying & Selling Sites
Welcome to the ultimate guide to website investing. In this article, I'll share a practical step-by-step guide on how to make money buying, growing, and selling websites.
After helping more than 500 website owners buy and sell digital real estate, I have gained an insider's perspective on what makes a website valuable.
Additionally, as a professional website investor and content creator for two decades, I've seen every side of the website flipping business and can help you avoid common pitfalls.
If you're a blogger, marketer, investor, or entrepreneur, I believe that flipping websites is a revenue stream worth considering.
As an affiliate partner of various brands and sponsored content, we may earn commission on qualifying purchases. Disclaimer | Advertise With Us
But what exactly is website flipping, and why should you consider it? Let's break down everything you need to know.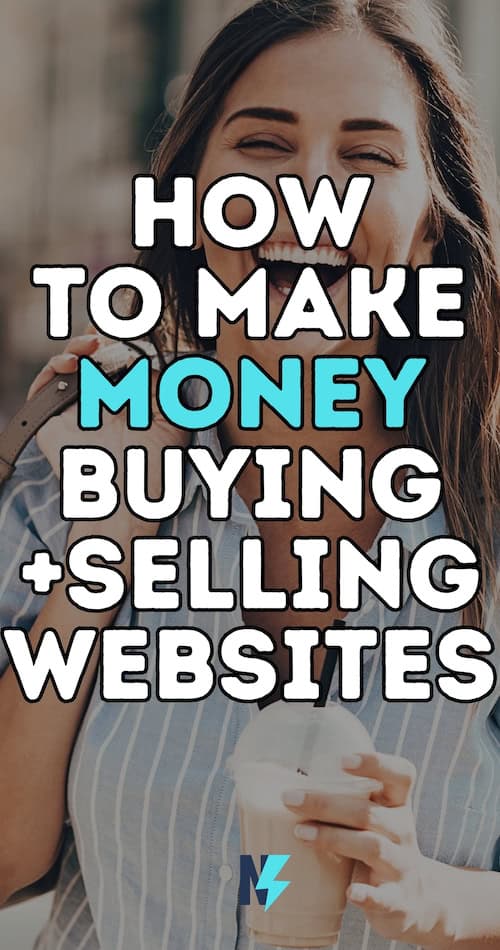 There are many ways that you can make money with a website.
Websites – specifically ones with blog content are used as marketing tools to promote products, businesses, services and anything else.
Whether you are selling your product or services through your blog, using affiliate marketing, or working with an ad network the opportunities for growth are endless.
However, there is another way to make money in the content marketing industry, and it is through website flipping.
Flipping websites can be very rewarding, with some sites selling six and even seven-figure amounts.
What is Website Flipping?
So, what is website flipping? In short, it's when you buy an existing webiste, improve it, and then sell it for a profit.
Website flipping involves giving the site a makeover, generating more sales and increasing the traffic, increasing its value, and then selling it for more than you bought it for.
Website flipping is similar to house flipping.
But instead of dealing with plumbing problems and all that comes with flipping houses (hello, HGTV Lovers), you'll be dealing with content creation and organic traffic SEO, digital product creation and web design.
In case you aren't glued to HGTV like we are, House flipping is when someone buys a house that is in need of a renovation (a 'fixer-upper'), and they fix it up to make it more appealing to buyers.
You'll probably be aware of the standard house-flipping formula of installing a new kitchen, new bathroom, and finishing with a neutral can of paint to spruce it up.
Once the house has got some more curb appeal and fewer skeletons hiding in the closets, they put the house back on the market and sell it for more than they bought it for.
This same strategy applies to flipping blogs and websites.
The idea behind website flipping is simple: buy low, sell high.
You buy an existing blog and then spend time optimizing it until its value increases.
Ideally, you want to purchase a website that has quality content and traffic, but not so much that you can't see room for improvement.
Once you acquire a website to flip, you'll spend some time revamping it using your knowledge and skills relating to SEO (search engine optimization) and keyword research to grow the traffic more.
An active blog is prime online real estate for marketing and promotion, valuable content, affiliate marketing and brand partnerships.
How Much Money Can You Make From Website Flipping?
Here's an interesting fact: Websites sell between 24x to 40x what they earn per month. So if your website earns $1,000 per month you could essentially sell it for $40,000!
The even cooler thing about this is that you will (ideally) be making money from your blog while you are working on it, before you even sell it.
There is no limit to how much you can make from flipping websites.
Understand that every site is different, so it's not possible to tell you exactly how much money YOU will make.
However, we can share real results from our clients who have sold their websites at Niche Investor:

Emily sold her food blog for $150,000
Kelan sold his gaming niche site for $20,000
Chrissy sold her mom blog for $105,000
Kyle sold his course reviews blog for $325,000
Kate sold her beauty blog for $200,000
Kaleigh sold her food blog for $210,000
Erin sold her food blog for 77,000.00
Jill sold her gift guide blog for $90,000.00
Mario sold his dropshipping site for $20,000
Matthew sold his aquatic pet niche site for $35,000
Meghan sold her haircare blog for $13,000
Melissa sold her DIY site for $38,000
To get an idea of what your website is worth, use the website worth calculator.

The Many Exciting Benefits of Website Flipping
So why exactly should you consider website flipping? Well, there are many reasons.
The Money
The first benefit of flipping websites is profitability.
As noted above websites sell for up to 40x what they earn per month. Sometimes more.
You can find out how much your website could potentially sell for by getting a free valuation.
Making Passive Income with Website Flipping
One of the most significant benefits of website flipping is the ability to make passive income.
You don't need to put in hours and hours of work each day; all you need to do is:
and start generating revenue
It's not easy, you do need to put effort in. But it's not too difficult either.
Furthermore, the good news is there are many ways to monetize a blog, so depending on what experience you have, you might start seeing returns on your investment almost immediately.
Potential for High Returns on Investment
You see, you can buy an existing blog for as low as $3000, monetize it and flip it for many times more.
So when I say there's potential for high returns on investment, I am serious.
Tax Benefits
Another benefit of website flipping is that it is taxed as a capital gain – so you only get taxed on 50% of the profit you make on the sale. And the initial purchase of the website is a tax write-off.
(Check with your accountant, as this particular tax benefit may not be applicable to everyone in every country).
Flip From Anywhere
Apart from the fact that it can be a low-cost investment that has the potential for good returns, you can enjoy the flexibility of making it happen from anywhere.
You only need a laptop, Wi-Fi, and some blog optimization skills, which I will be sharing with you here.
I don't know about you, but I really love working from anywhere; website flipping allows you to do just that.
You can work from your couch, in a coffee shop, on a road trip, or while on vacation, so it is really the perfect way to make money while on the go!
Quick Wins That Keep Things Interesting
In addition, if you love starting new projects, but like me, you get bored and don't want to work on the same thing for too long; then you'll absolutely love website flipping.
How Can You Get Started Making Money With Website Flipping?
Alright, so I've convinced you to start website flipping. But what do you need to start website flipping?
Well, first things first: You'll need money to buy an existing blog.
Website flipping is an investment, so you'll have to buy a blog to be able to flip it.
There are several marketplaces and platforms that you can go to in order to buy and sell websites.
But as the founder, I'm biased so I'd recommend the Niche Investor marketplace as the best 😉
Truthfully, Niche Investor is a great option for anyone who wants a transparent and secure source for buying and selling online businesses.
The best part is if you do not have the budget for a large established website, at Niche Investor you can also find premium starter blogs to get you up and running.
So now that we got that covered, let's get into the steps for website flipping.
The Ultimate Guide To Website Flipping: How to Make Money Buying & Selling Sites
1. Niche Research
A good place to start is to decide on the blog niches you are interested in.
The truth is not all niches are created equal.
The trick is doing keyword research to find out what people are searching for, which will give you an idea of where to focus your blog-flipping efforts.
Are people using certain words or phrases when they search for information related to this website?
Knowing what people are searching for can help you optimize your content to appear higher up in search engine results pages (SERPs). This will increase your visibility online and provide better opportunities for conversions and sales.
However, the most important thing is that you pick a website in a niche that you personally resonate with/have an interest in.
Because you will want to pick a niche that you will be interested in enough to want to write about.
Your niche should be something that you are knowledgeable about, but also has market interest and monetization opportunities.
2. Find a Website to Flip
Once you've decided on a niche, it's time to find an existing blog that works for you.
Here are some websites that are available to acquire, for example:
You'll want to look for websites with good domain authority, organic traffic, and quality content.
It's a nice bonus if the site comes with social followers, digital products, and an email list.
Where Can I Buy Websites To Flip?
You can find a variety of blogs for sale here at Niche Investor.
Our team of experienced listing agents will help you acquire the perfect site for your specifications. As a buyer, you don't have to pay anything for this service. We are here to assist you!
3. Determine Your Budget
It helps to determine the budget you are willing to spend on the acquisition of the site you want to flip.
Websites with high traffic, high income and high-quality articles will be more expensive than ones that have low traffic or no revenue.
Acquiring a site that is profitable and established will give you a head start on your project and possibly have higher profit margins.
That is versus buying something unprofitable that needs a lot of start-up work.
However, for some, it can be quite fun buying a failing blog for cheap and fixing it up.
But know that it is way easier to scale a website that is already making money and has traffic than it is to try to grow one that doesn't.
Starting from scratch is like pushing a rock up a hill when it comes to website flipping.
So I'd suggest investing in a site that is more established from the get-go.
4. Know What To Look For When Buying A Website To Flip
When considering a website to acquire as a flipping project, there are some things to keep in mind.
Ideally, you will be looking for a website that you can improve and has a lot of untapped potential. Ones that just need your magic touch to grow it.
When finding a website that would be a good candidate for flipping, here are some things to look out for.
Look at the content
Content is king so you'll want to evaluate the quality of content on the website.
Is it well-written?
Is it engaging and informative?
Does it include relevant images or videos?
Analyze The Trafic
The next step is analyzing the traffic of the site you are considering buying to flip.
Traffic is key to the success of a website. To be honest, you can write all the great content in the world but without traffic no one will see it!
So you want to make sure that the website has consistent traffic that is growing over time.
The best way to do this is by asking the website's broker for Google Analytics access. You can do this by filling out the form at the bottom of any listing at Niche Investor.
Also, look at where the traffic is coming from and how much time visitors spend on the site.
This will give you an idea of the audience's engagement with the website and how much potential it has for growth.
Design and UX
You should also familiarize yourself with the website's current design, and consider how you can improve it.
A professional-looking website will give visitors more confidence to click and buy things, and encourage them to stay longer.
Understand The Revenue Streams
Spend some time looking at the site's current monetization, and ensure you understand it.
Ideally, you will want to choose a site that is monetized with more than one revenue stream, with room to improve where you can add additional methods.
Other things to look out for
Domain Age: A website with an older domain age can sometimes rank better on search engines, as it has more authority.
Backlinks: Quality backlinks from authoritative sites will help your blog rank higher in search engine results. Be sure to check the blog backlinks to avoid buying a site with spammy backlinks.
All of these considerations are called 'due diligence.' You can use this handy due diligence checklist to know what things to take note of, and what to ask the listing agent.
5. Buy The Website To Flip
Once you have completed due diligence, and you are ready to make an offer, let the listing agent know.
She will assist in providing the sale agreement, Escrow account and oversee the transfer of assets to ensure you receive everything in a timely manner.
Related: Here are some more important tips for buying your first website, including helpful advice on how to get your offer approved.
6. Improve the Website
Upon closing, you will have full ownership of your new website, and it's time to get to work!
This is where you increase the value of the blog to be able to make more money.
You'll want to update the blog content, possibly give the design an update with a new theme, add new features, optimize images and videos for SEO purposes, etc.
As well, start publishing more SEO-focused content, and boost social media engagement for traffic.
You can optimize existing content for SEO purposes, add affiliate links where relevant, partner with an ad network like Mediavine, and create digital products to increase revenue.
Make sure that you use a quality keyword research tool when deciding on article names to target the best SEO keywords.
Good SEO will bring enough traffic to your blog that you can monetize it further.
Next, you'll want to promote the website across various social media platforms (Facebook, Twitter, Instagram), and possibly run some paid ads.
Oh, and don't forget about email marketing! An email list is one of the most powerful tools in any website flipper's arsenal!
All of these things will help increase your traffic and generate more revenue for you.
The amount of effort you put in is completely up to you.
7. Better-Monetize the Website
Well, the trick to website flipping is that you need to increase the site's income. Because the more the site earns, the more it will be able to sell for.
Remember, if your website earns $1,000 a month, it may be eligible to sell for $40,000. If it makes $10,000 per month, make that resale price $400,000.
Yes, you read that right.
So you see why the monetization side of website flipping is important.
Buyers need to see that the website has potential, is making money, and has good content.
You can monetize the website by:
Selling digital products
Advertising on the blog
Sponsored post
Offering services
Affiliate marketing
Sometimes it can be as simple as just adding higher-commission affiliate links or tweaking the placements of banner advertising.
The two most popular ways of monetizing a blog are through affiliate marketing and advertising. But there are many more ways to make money blogging!
The sky is really the limit to how much you can make with the website you plan to flip.
8. Sell The Website (The Flip)
Once you have generated income for a few months (say 6-12 months), it will be time to sell the website, and make some good cash.
When working with Niche Investor to flip your website, our listing agents act similarly to a realtor when selling your house.
We take care of the listing creation, promotion, speaking with buyers, handling the sale agreements, Escrow, transfers and closing.
You are in good hands, and it's way less for you to worry about since all of the logistics are handled by the agent.
Another benefit of working with Niche Investor is that your Niche Investor listing agent only gets paid when she successfully closes the sale, and she is paid a percentage of the sale price as a commission.
This means that it is always in our best interest to get you the best sale price.
Documents To Have Prepared
When selling your website you will need to prepare financial documentation to show as proof to potential buyers.
This can be your P&L sheet (this is a profit and loss spreadsheet that will show the income and expenses the site has had each month that you have owned it).
As well as screenshots of earnings from ad networks, affiliate programs, and proof of traffic claims.
Your Niche Investor listing agent will tell you the exact documentation that is needed.
How Long Will It Take To Sell?
Asking "how long will it take to sell my website?" is the question every seller asks and wants to know.
Truth told – it's impossible to know exactly how long it will take to sell YOUR site, as there is no way to know that. (Well, unless you have a crystal ball, maybe!)
The selling process can take anywhere from a few days to a few months, depending on how fast offers come in for your website.
But you should always hang in there because out of experience, the right buyer always comes along.
Flipping a website is simply another type of business in itself, and you won't shut down your business because you didn't make any sales on the first day, would you?

All you have to do is keep the site running and optimized, with traffic and revnue coming in. As this is a good look for when buyers come looking – and it only increases its value over time.
The nice thing to know is that once an accepted offer is signed, the actual closing steps are usually completed in a week.
The best route is to submit your site and get the listing on the market now!
Read the FAQs for sellers to learn more about the selling process once your site is up for sale.
Why Would You Flip Your Website?
As previously stated, there are many benefits and reasons that you would want to flip your website.
But I can share a few more!
Some people just have a knack for creating blogs from scratch but don't like the bother of maintaining them.
Rather than letting them die in the bottomless pit of the internet, they sell them on.
Here are some more reasons to consider flipping your website.
Reasons Why Website Flipping Is Worth It
If you have a blog, whether it is making money or not and you want to sell it, then you simply can.
It is obviously way easier to sell a blog if it is profitable than if it isn't making any money.
However, if you just want to cash in with a big lump sum of money instead of having passive income from the blog, website flipping is the best way to do it.
Especially if you want to start a new project and need the funds to do so.
Can You Build A Website From Scratch And Flip It?
Yes, you can build a website from scratch, rather than buy one to flip.
But, starting from the ground up is definitely the most time-consuming way to profit from a website.
Although it's the hardest option, one benefit is it will require much less in terms of funds than it would be to buy an existing blog.
If you can build a blog to have organic traffic, high-quality articles, and consistent revenue then it is totally possible.
Starting a blog is relatively simple and does not require much money, in fact, you can start a blog for under $100 with just a domain name, blog hosting, and a premium WordPress theme.
But again, the big drawback to this method is that it is way more time-consuming than simply buying a profitable site to flip.
For most investors, we value our time much more than nickels and dimes. But if you have the time, go for it!
How Long Should I Operate My Website Before I Flip It?
As discussed, your website's value will be determined by how much it makes each month.
Therefore you need to log a few months of income, before you can sell it for the highest possible price.
Spend a couple of months building up your blog with the steps mentioned above, until it is earning a decent amount of money.
Then let it grow and earn money passively for a few months before putting it on the market.
Or, maybe your blog is too time-consuming for you, and you won't be able to keep it updated with new information, which may mean it is time to cash out now.
Here are some ways to know when it's the right time to put your website up for sale.
Website Flipping Course
To learn more about buying and selling online businesses, apply to enroll in our high-touch group mastermind and training program.
Members receive access to HerpaperRoute's website flipping course, and 1:1 mentorship with me, Chelsea Clarke.
Frequently Asked Questions About Website Flipping
How Long Does It Take to Flip/Sell a Website?

Ok, you have decided to sell your blog, so how long does it take? To be honest, it can take anywhere from one month to several months. It really depends on how attractive your site is to buyers.
At Niche Investor we have had sites sell within a few days of listing, while others can months before the right buyer makes their move. Every site is different, and there is no way to know just how long it will take for your site to sell.
How Much Money Can I Make From Flipping Websites?
How much you'll get for your blog depends a few factiors – the main being, how much it earns.
The industry standard multiple for valuing a website is 24x-40x its monthly profit. Thereby if you have a blog that is making an average monthly profit of $1,000 then you can expect to sell it for anywhere from $24,000 to $40,000.
How Much Do Website Flippers Make?
Website flippers make money both on the profit their sites earn while they own them, as well as on the sale of their website. How much exactly will be different for every individual. However, sellers at Niche Investor have had 6-figure selling prices by flipping their websites on the platform.
How do I become a website flipper?
To become a website flipper you simply sell a website for more than you paid for it, once, and you can then call yourself a website flipper or website investor. Follow the step-by-step tips in this article to understand exactly what to do to buy and sell websites for profit.
Is flipping websites still profitable?
Yes, flipping websites is still profitable for many people who are willing to put in the effort to learn the trade.
Ultimate Guide To Website Flipping – Conclusion
So there you have it, the complete guide to website flipping. You now know how to a website flipping business started.
As you can see, it can be a low investment high potential business with the potential to change your life.
With website flipping, you get to make some serious cash while doing something you love. What's not to love?
If you're looking for ways to make money, selling websites for profit should definitely be at the top of your list.
Because the truth is, the right blog in the right market could be your ticket to financial freedom, allowing for the flexibility to work from anywhere.
The best part is you do not have to be a techie to start website flipping, all you need are these tips above, and soon enough, you'll be flipping websites like a pro.
Will you start a website flipping business this year? Do you have any questions about things I might have missed in this guide? Let me know in the comments below.