Frase.io Review: Best AI Content Writer Tool
If you're in the market for the best AI content writer tool, welcome to our Frase.io review.
If you are a website flipper, you'll likely want to hear about any software that can help you to really add value to your sites. And if it's blogs you want to flip, this means producing a LOT of content.
Frase.io is a tool that helps content marketers speed up the process of researching and writing blog content.
In this article, we're going to cover what Frase.io is, how it works, its pricing and its value for money. By the end of the article, you will be in a position to judge whether frase.io is right for you. And without further ado…
As an affiliate partner of various brands and sponsored content, we may earn commission on qualifying purchases. Disclaimer | Advertise With Us
What Exactly is Frase.io?
Frase.io is software that uses artificial intelligence to produce content outlines. It automatically generates written summaries on any topic, and optimizes the content so that it can rank as high as possible in the search engine results pages.
As a content creator, you don't have time to spend manually writing everything all day.
So this is why you should be interested in tools that help you research, write, and produce high-quality content. Content that has been perfectly optimized to bring you right up the rankings on those all-important search engine results pages.
That is why it's worth doing your homework and reading articles like this one that reviews the service for you, so you can then decide if it will be worth it for you.
How Does Frase.io Work?
Ok, so this is basically how it works.
You enter the phrase you want to rank for, and Frase.io searches it and accesses and analyzes the top 20 results.
This provides the artificial intelligence, or, everything it needs to produce a content
The content in these top 20 results is broken into its main sections, and you can then pick and choose which of these to include in your content outline.
This is great if you want to send out content briefs to a dedicated content agency you want to hire to produce your content for you.
But, with Frase.io, there's no real need to outsource your blog content to an outside agency, because Frase.io can do that for you too.
Once you have your outline, you can then go on to use the AI to generate unique paragraphs of content.
You can also use it to rewrite paragraphs if you're not too keen on them, and expand on existing content.
Then Frase.io goes a step further. It scores your content and the content in the top 20 results for your keyword phrase.
And it will identify any topic gaps that you should include.
Pricing and Value for Money
There are 3 pricing plans available to choose from. The automated content briefs, the content scoring and the content editor are included in all three plans.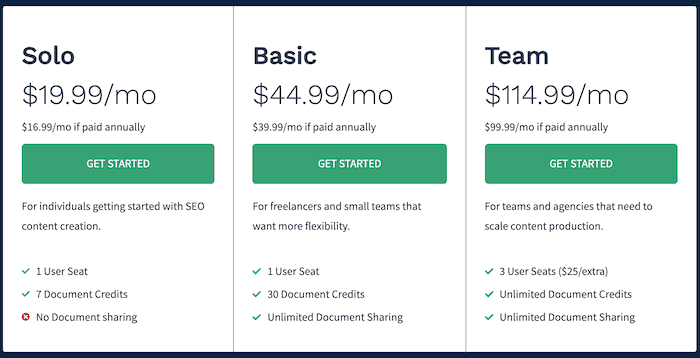 Basic Plan
When this article was written, the basic plan cost just under $50 per month.
The basic plan is limited to 30 document credits per month.
This means that you can create up to 30 new documents, or optimize up to 30 documents from a live webpage, or a mixture of both.
Team Plan
When this article was written, the basic plan cost just under $100 per month. It offers users an unlimited number of document credits each month.
This plan is aimed at an entire team rather than at individuals, and as such it provides up to 3 users.
Furthermore, the other great thing about this plan is that it also offers Google Docs integration.
Enterprise Plan
When this article was written, the cost of the enterprise plan was not made clear on the company website, and interested parties were instead encouraged to contact the company's sales team.
This plan is aimed at in-house and agency SEO teams growing at scale.
SEO Add-On
Frase.io also offers an SEO add-on that can be added to any of the above three plans.
When this article was written, this was priced at $35.
This includes providing keyword search volume for your keywords, and keyword modifiers.
It also provides you with backlink data for the top search results for your keywords, along with the domain authority data.
And finally, it also gives you unlimited access to Frase.io's artificial intelligence content writer.
How To Save Money On Frase.io
Frase.io offers a 7-day free trial. While this is a good time frame in which to judge the quality of the content produced, it isn't really long enough to judge how effective the content is when it comes to SEO.
Because of course, building an online presence with SEO takes time.
Another nice perk is that you can save 15% on your subscription if you opt to pay annually rather than monthly.
Value For Money
If you want to build on one or two websites at a rate of about 30 articles or blog posts per month, without having to spend too much time actually writing the content, then Frase.io is hands-down worth it.
And this is the case regardless of whether you intend to outsource the writing, or whether you want to use its tools to put the content together itself.
It's also an excellent tool for larger agencies, and for this use, we would argue that the plan which offers the best value for money in this instance would be the Team Plan, together with the SEO Add-On.
Summary Of Frase.io Pros And Cons
Pros
Time-saving
Undoubtedly, the strongest feature of Frase.io is how much time it saves in preparing content outlines.
Frase.io allows you to create a full content outline in a matter of a few short minutes.
If you were going to manually look at what sort of content features help to get ranking high on the search pages for your various keywords, this could literally take you hours every day.
So the difference that Frase.io can make in this regard is phenomenal.
Content that ranks in the search results pages
If, previously, you were putting content outlines together based on merely what you think your customers want to read rather than on what ranks in the search engines, then you'd be quite unlikely to get your content read at all.
Especially if you are relying on content only in this regard.
learns what makes top-ranking sites feature so highly in the results page
and when this data is used optimally, you have a greater chance of getting on that all-important first page of Google
Cons
Irrelevant content
Sometimes, even top-ranking websites can include some irrelevant content in their websites.
This is because sometimes the reason a website ranks well for particular keywords is often more due to their domain authority, rather than the relevance of the content.
For this reason, Frase.io sometimes suggests topic content that isn't necessarily sufficiently relevant to the content you want to produce.
What this means when you come to use Frase.io, is that when you come to put content or content outlines together, you can't just blindly add everything in.
You need to select which elements are actually relevant.
This is just good practice as a site owner, regardless!
Frase.io Vs Surfer SEO
For those who don't already know, Surfer SEO is a popular tool to help produce SEO-optimized content.
Like Frase.io, it looks up the top few entries on the search results page and assesses what features in the content of these pieces makes it rank highly.
And this data, the words used and the frequency at which they occur, can be used to inform the content you create.
So, Surfer SEO has something a little different to offer blog and website flippers.
Like Frase.io it helps to produce high-ranking content, but unlike Frase.io it doesn't use artificial intelligence to actually generate snippets of content.
We would argue that using both tools simultaneously would not be a wise way to invest your money.
Both are excellent at what they do, but if you are torn between the two, which one to use depends on whether you intend to create the content yourself or outsource it…
Frase.io is the best AI writer tool for creating content outlines for content you want to outsource.
But Surfer SEO is a tool that works well together.
Frase.io Review – Final Verdict
If you want to save time or your focus is on flipping blogs in niches where you don't have a genuine interest in, then a tool like Frase.io would be well worth investing in.
Using this AI writer tool, you can produce content quickly and at scale, and have your content rank far more quickly than you otherwise would have.