Where To Buy A Blog In 2024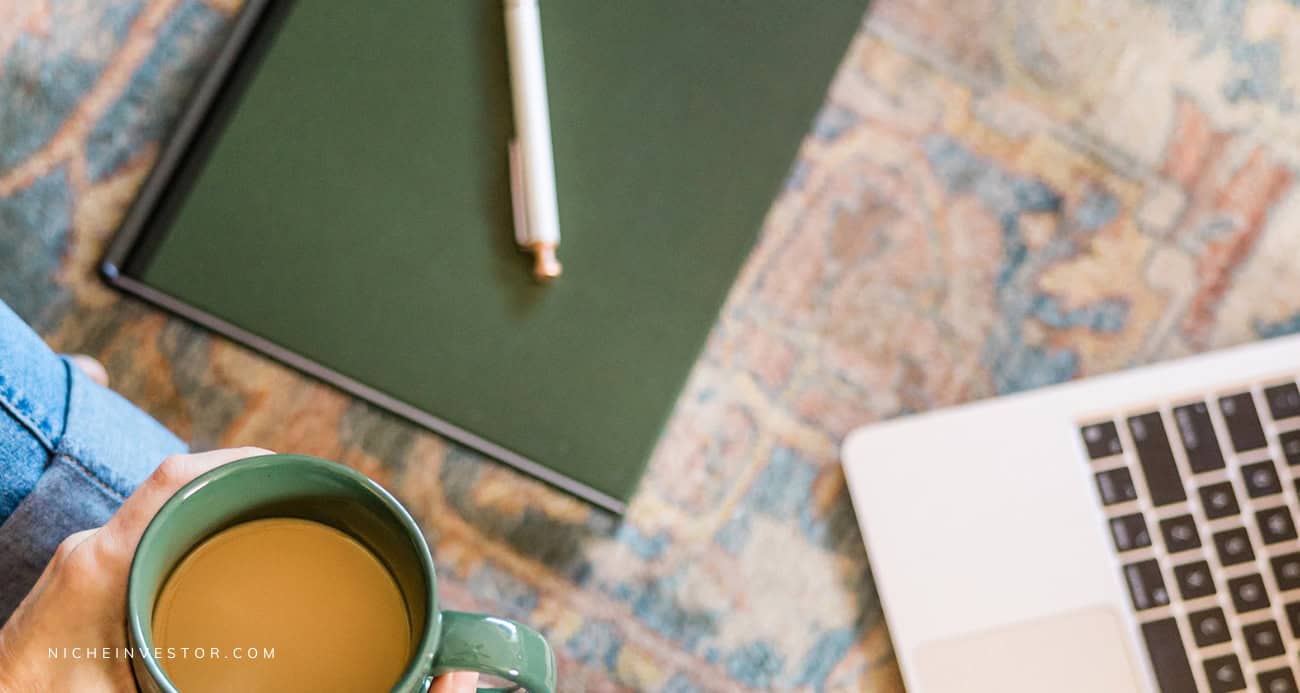 Wondering where to buy a blog these days? You've found the solution, right here at Niche Investor.
There are many reasons to start blogging, you could have a genuine interest in the thing that you are blogging about, and you know that blogging can be a fantastic way of making money.
But why bother starting a blog from scratch, when you can simply acquire an established website that is already profitable?
In this article, we will show you where to buy a blog and what to consider.
As an affiliate partner of various brands and sponsored content, we may earn commission on qualifying purchases. Disclaimer | Advertise With Us
Where To Buy A Blog And Why You'd Want To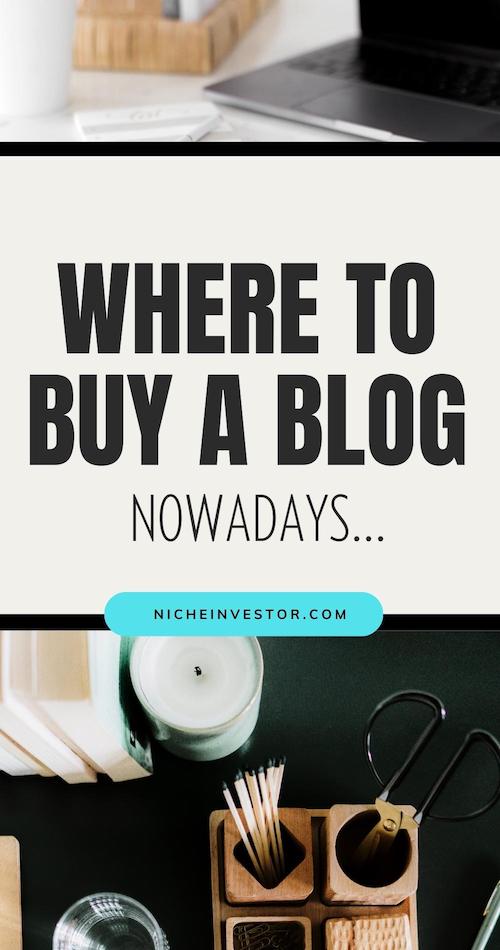 There are many places to find blogs for sale, but Niche Investor remains the go-to place to buy quality content sites.
Having a blogging business and making money from blogs is one of the most lucrative business opportunities today, and it can be very profitable too.
There are a lot of ways you can make money from blogging. Including affiliate marketing, display ads, sponsored content, and even selling your own goods and services from your blog.
Another way of making money from blogs is blog flipping. That's when you buy a website for the purpose of growing it and reselling it for profit.
Blog flipping is very similar to flipping a house.
You buy a blog that is a bit of a 'fixer-upper' needing some care and keyword research to get the internet traffic up and start making an income, and when the blog is making a steady amount of passive income, you can sell it for a huge profit.
It is important to know exactly how to buy a blog to flip and what you should be looking for in a blog that you want to make a profit from.
Where To Buy A Blog
When buying a blog that already exists and potentially making money, you will have two options, you can either use a broker or a marketplace to buy or sell a blog, or you can go through the process independently.
Both of these options will have their advantages and disadvantages.
Using a marketplace or broker to buy a blog is definitely the easiest way of purchasing a blog as all of the work is done for you by the marketplace or broker.
You can also see exactly what you need to know about the blog before you actually buy it.
Here at Niche Investor, for example, when you go to buy a site, we will tell you exactly how much the site is earning, how much traffic it gets, and more.
We will also show you how the blog is monetized and give you a definite price on how much you can buy the blog for right now.
You can also look at blogs that are established or starter sites and even filter your searches by how much the blog is already making.
Can You Buy A Blog That Isn't "On The Market"?
Yes, there are many forums and Facebook groups that specialize in buying and selling blogs that you can go to independently.
Buying a blog independently will sometimes be a bit cheaper than buying a blog through a marketplace but the major downside is that you will have to do all the logistical work and research yourself, and you won't be protected by a third-party broker, as you are when you buy via Niche Investor.
Also, it can be very time-consuming having to do all this work yourself and there is less protection from con artists and scammers when you work independently.
How Do I Value A Blog?
If you sell a blog it is quite easy to get a free valuation to see what your blog is worth.
You can look at blogs that have recently sold that have the same monthly income as yours and the same traffic.
Alternatively, you can see how much your blog earns on an average monthly basis over the span of around six to twelve months and then times it by a multiple between 24 and 40 to find out exactly how much you can sell your blog for and how much you should sell your blog for.
When buying a blog it is a lot harder to value the blog as a lot of the value of the blog comes down to you. You can also use this scale that selling blogs use.
Take the average monthly earnings of a blog and times them by a multiple, try a low price of 20 and a high price of 40.
For example, a blog that is earning $100 a month on average will be worth an amount between $2000 and $4000.
However, statistics don't tell the whole story and there are a lot of other factors you need to consider when buying a blog.
Here are some handy tips to think about when buying a blog that will increase its value to you and be more likely to make a profit.
Blog Visits And Audience
It's good to look at how many visitors the blog gets per month, and more importantly, where do those visitors come from. You can do this by asking the broker for view-only access to the seller's Google Analytics.
When looking for a blog to buy you may want to look at blogs that have around 10,000 blog visits per month. As those are semi-established, and likley out of the Google sandbox.
It is easy to build a blog from scratch and get to around 3,000 visits per month, the real challenge is getting from that 3,000 to 10,000 and establishing a good visitor base.
Already having a good visitor base will mean that it is easier to monetize and get enough money to make a profit on your blog in a small amount of time.
It is also important to know where your visitors come from. Ideally, you want at least half of your visitors coming straight from search engines such as Google and Pinterest.
If the site gets solid organic search engine traffic it means that the site content already has a pretty good SEO (search engine optimization).
You don't want the majority of your visitors coming from social media such as Facebook or Twitter, as social media visitors are less likely to be searching for something, and therefore less likely to interact with your site.
Whether it be clicking on advertisements, affiliate links, or buying a product or service.
Having blog visits, however, is not the same as having an established community following the blog.
Any good money-making blog will have an option for the reader to subscribe to an email newsletter, these are normally free and a good way to get a community established around your blog.
You want to be looking for blogs that have an email newsletter too.
Before You Buy A Blog, Consider Whether The Blog Established
Knowing if a blog is established before you buy it isn't as simple as the blog having a good amount of visitors, you will also have to factor in how long the blog has been around and exactly how the blog ranks on Google.
Every website or blog that is on Google has a page rank of 0-10. Normally you shouldn't give much weight to what the page rank of a blog is, except if the page rank is 0.
If the page rank of a blog is 0, it simply means that Google doesn't like the site very much and they are almost impossible to turn a profit on as they will constantly be penalized by the search engine that people are using.
You can also look at the domain authority of the domain. This ranking ranges from 1-100. Ideally, you would want a domain that has a domain above 20.
Another factor to look at when seeing if a blog has already been established is the age of the blog. You need to make sure that the blog has been running for at least a year, preferably having made money for at least a year.
Blogs that have been up for under a year will not have the valid amount of traffic data to influence your buying.
If the blog has been making money for a long time and has been established in the blogging world, then you will have a lot of data to base your purchase on.
Free Training: How To Start A Blog ~ Hosted by Chelsea Clarke
Monetization Potential
When looking for a blog to buy one of the most important things you need to think about is how you are going to make a profit from the blog.
That is why it is crucial to know how the blog is already making its money.
You want to look for blogs that are under-monetized, ideally!
If a blog is only using one type of monetization and still getting quite a lot of money, then there is potential to add other forms of monetization and maximize the profits that the blog is making.
For example, this established blog is making over $700 per month in Mediavine revenue, and it is under-monetized because it hasn't taken advantage of other revenue streams yet. It is currently for sale!
You can even look for blogs that aren't being monetized at all. However, starter sites like that are slower to get an ROI from.
Does The Blog Have A Strong Brand?
Having a strong brand is key to the success of the blog that you buy, you need to find a blog that knows what it is and the content that it makes.
As well as the blog has a strong established brand already, there needs to be potential for you to grow that brand, whether it is through outreach, backlinks, or just more high-quality content.
That being said, a lot of that is down to you.
If you're buying a blog with the intention of writing the blog yourself instead of hiring freelance writers, you need to know a lot about the niche that the blog is about.
Do some research, find out everything you can about the niche, and most importantly, find out if you are interested in what you're going to be writing about.
Some blogs will have a brand and a community that is too heavily connected to the seller. This means that its readers and community will have a strong bond with the author of the blog, and may be harder to keep the community if a new author is introduced.
It's good to find a balance between the two, it is a good idea to contact the writer of the blog and ask for some tips.
Some people will also consider giving the original blog owner a writer's position with a set wage.
This will ensure that the blog will keep its community when you start to take over the blog.
Where To Buy A Blog – Final Thoughts
When buying a blog to make a profit it is important to know exactly what you are buying, whether you do this independently or through a broker or marketplace, you need to look for some key things.
If you follow all of the steps mentioned in this guide, then you will find success in your blog-buying business.
ensure the blog has a good amount of visitors
as well as an established community
is an established blog in itself
has the potential to build a strong brand
and most importantly a good amount of income
Now that you know where to buy a blog, it's time to learn how to buy a blog.